About Flatirons Stump Removal in Denver

 Text is best: 303-578-0822
Man
Owner/operator Jerry Burr is a Colorado native who appreciates a good-looking yard. Due to his conscientious nature, his friends and family occasionally call him by the nickname, "Safety First."
Machines
We primarily rely on the compact, yet robust Vermeer SC362 stump grinder.  Its relative light weight decreases the risk of yard/lawn damage when traversing over vegetation is unavoidable. It is outfitted with the most advanced and efficient cutting system available to reduce run-time (and carbon emissions.)
For very hard-to-reach stumps, we utilize the hand-held Alpine Magnum stump grinder. While this drastically increases the cost of stump removal, there are some rare stumps that need to come out and there's not much other choice.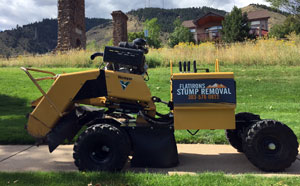 Flatirons Stump Removal
Founded in 2013 Flatirons Stump Removal is one of the more established independent stump companies in the Denver/Boulder area. We've kept our quality high and our pricing competitive and through the years have earned the business and trust of thousands of homeowners & businesses. Our goal is not just to improve the appearance of your landscape, but to be one of your favorite companies. We hope our professionalism and service will continue to win your trust and referrals to your family, friends, neighbors and co-workers.
Text us for a FREE ESTIMATE! 303-578-0822