Stump Grinding and Stump Removal Pricing
Call or text: 303-578-0822
Stump removal starting at $179.00! $149 (now $30 off!)
Inflation is hitting hard. We are trying to do our part to move the needle the other way by offering $30 off our minimum charge!
Our process is better. The techniques we've developed over the years allows less wood chips to be left in the soil, resulting in faster revegetation and is $8/inch for most* stumps. Our $179 $149 minimum charge includes one stump up to 18″. We do our best to separate as much mulch as possible and pile it for for property owners to incorporate into their landscape & gardening, or dispose of themselves. This is stump grinding done right (in our opinion.)
Add excess mulch haul away for  $3/inch for most* stumps to leave your yard with a finished look after your stump is removed. (We just need to know before we start work.)
Available on request, we also offer a "grind and go" service priced at $7/inch for most* stumps, which is the industry standard technique used by most other tree and stump removal companies. This service is not available with our mulch haul away service. This technique churns stump and dirt together and is recommended for locations where revegetation is not anticipated. (As wood chips decompose, they absorb nitrogen. The high volume of mulch that is mixed into the soil with this technique competes with vegetation – trees, bushes or grass – for nitrogen and inhibits growth. This is why mulch works for weed suppression.)
All jobs include the State of Colorado required utility locate, and written service agreement.
Free estimates!
Text us a picture of your stump to 303-578-0822 (or email us at  

[email protected]

) for a price quote for removing your stump. Here's the information we will need:
– A picture looking down on the stump with a tape measure stretched across the diameter (see diagram below.)
– A second picture standing back showing the stump surroundings.
– Is this stump in the front yard, or backyard (or side)?
-What are your plans for where the stump is now (replant? grass? rocks? new landscape? something else?)
-Your city to be sure you're in our service area.
Why Flatirons Stump Removal?
Flatirons is one of the only stump removal services that utilizes the Colorado 811 utility locate service as required by Colorado law. Before comparing price quotes, ensure that you, the property owner, will not be left with liability exposure for potential underground damages by using a competitor who skipping this step.
Flatirons is fully insured. Proof of insurance is provided upon request.
We listen first! Each job starts with an understanding of your plans for where your tree stump is (i.e. – Replant a tree? Grass? Other landscape?.)
We are better! We have removed over 10,000 stumps, we are streamlined, thorough and efficient. It's all we do.
Satisfaction guaranteed. We have been in business for 6 years and continue to stand by our work.
A written estimate, specifications** and scope of service is provided prior to beginning removal.
Major credit cards, Venmo, or check, accepted.
How to measure your stump
The number of inches across the base is the number we need. Stumps are a little like icebergs with more below the surface than above. For a more accurate estimate, measure your stump at the widest point where it intersects with the ground – "root flare to root flare." When providing us with information on the size of stump being ground or removed, you should measure at the base of the stump as shown in the illustration below.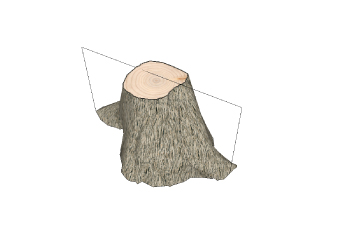 *Stumps over 36 inches may increase by $1/inch, and very large stumps (over 5 feet) can be more. While the vast majority of stumps are priced standard, we occasionally charge more for: Difficult Access (stairs, steep slopes), Difficult Surrounding Landscape (stumps grown around stakes or fence posts, very rocky soil, next to a object, or in delicate surroundings), Overall Height (chainsaw cut is an additional charge if you have a tall stump.)

** Standard Service specifications: stump is removed 8-12″ below grade, resultant area may be mounded 2-3" above grade to allow for settling & decomposition. Residual mulch is piled for property owner to re-incorporate into landscape (Standard Service) or hauled away at additional cost as described above (Complete Service.)